24/7 Customer Service 1-877-991-3411
Error: There is no member associated with this page. Did you follow a bad link? View the Members Listing to try to find the member a different way or contact us if you are having problems.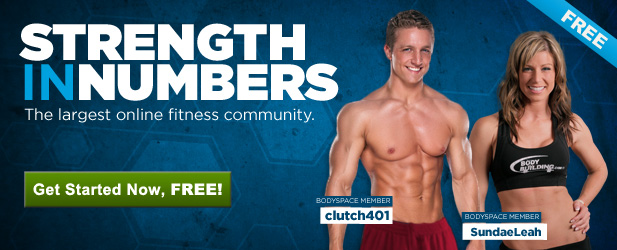 Member Profiles
Customize Your Profiles
Set Your Goals
View Over 700,000 Members
Track Progress
Set Your Goals
Find & Share Workouts
Transform Your Body
Stay Motivated
Connect with Others
Support & Accountability
Share your Successes
Join the BodySpace Community for Free! Start Now!
---
---
Active BodySpace Profiles:
2,274,990
Search Bodyspace
Inspirational Profiles - Women






Newest Goals Set

KxxexxnD




| | |
| --- | --- |
| Category: | Body Fat |
| Current: | 25.0 % |
| Goal: | 18.0 % |
| Goal Date: | Jul 3, 2013 |

Today, 1:04am

christianc27




| | |
| --- | --- |
| Category: | Arms |
| Current: | 13.0 Inches |
| Goal: | 15.0 Inches |
| Goal Date: | Sep 1, 2013 |

Today, 12:33am

lediaz64




| | |
| --- | --- |
| Category: | Weight |
| Current: | 233.0 Pounds |
| Goal: | 200.0 Pounds |
| Goal Date: | May 22, 2013 |

Today, 12:27am







Inspirational Profiles - Men





Latest Body Stats Updates




Latest Lifting Stats Updates




Most Popular Videos

Played: 298870

Played: 297124

Played: 260103




Newest Videos

Uploaded: Today, 12:54am

Uploaded: Today, 12:53am

Uploaded: Today, 12:52am